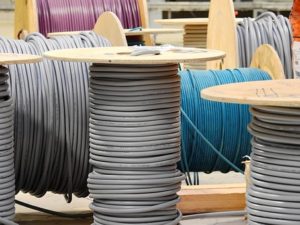 Wire and cable industry in India comprise about 25% of the power transmission and distribution sector. It also forms 40% of the electrical equipment industry in India. India has a lot of potential in the mining, power, oil and gas, metro railways, cement industry , steel industry and other sectors. Different kinds of cables like extra high voltage cables, elastomer cables, etc, are now being used for special applications such as mining/oil sector, shipbuilding /crane cables/elevator cables, cables for solar power plants, power cables to harness power for new generation projects. The industry is estimated at Rs. 40,000 crores of which specialized cable industry segment market value is around Rs. 10,000 crore.
The challenge faced by the industry is increased competition from China and rise in price of raw material inputs like aluminium and copper. Though 65 % of the industry lies with the organized sector, the rest of the unorganized sector provide stiff competition to the industry.
Infrastructure development is likely to boost this sector. With development of smart grid projects, highways and railways modernization, Digital India will give a fillip to the sector. Currently, the Indian per capita consumption of wires is only 0.5 kg while the global average consumption is 2.7 kg. The industry is expected to grow at a rate of 18 to 20% over a period of five years.
News
List of All Wires and Cable Manufacturers in India