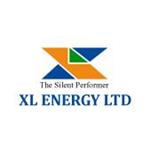 | | |
| --- | --- |
| Company Name: | X L Energy Ltd |
| OldName: | |
| Group : | |
| Address: | Corp Office |
| | C2, Pooja Plaza |
| | Vikrampuri |
| City: | Hyderabad 500009 Rangareddy Telangana |
| Tel: | 040-2788 3333 (30 Lines) |
| Fax: | 040-2788 3344, or 2784 0081 |
| Mktg-Email : | [email protected] |
| HR-Email : [email protected] | |
| Purchase-Email : | [email protected] |
| Brands Owned : | |
---
About the Company :
XL Energy Limited (formerly XL Telecom & Energy Limited) was incorporated at Hyderabad as a private limited company in 1985 and became a public limited company in 1990.
XL is one of India's leading end to end solution provider established in 1992 in the field of Solar Power with expertise in the field of production of Solar Photovoltaic Modules. XL has over 17 years experience of manufacturing its Solar Photovoltaic Modules and systems to various agencies in India and overseas.
XL has delivered over 75MW of solar modules to countries all over the world. They also have started their own EPC division and have set up 1.755 MW solar plant in Spain and have also done 3MW of solar plants in India with 14MW in the pipeline .
---
Personnel
Dinesh Kumar
– Managing Director
Ritu Lal Kumar
– Non Exe.non Ind.director
Vikas Nayyar
– Independent & Non- Executive Director
Aneesh Mittal
– Whole Time Director
P R Vishnu
– Independent & Non- Executive Director
---
Plant Jointing Kits & SPV Division: Shed No. 30, 31,31 I.D.A., Mallapur Hyderabad 500076 Rangareddy Telangana
Plant SMPS & CDMA Division: Plot No. 198/A, I.D.A., Cherlapally Cherlapally 500051 Rangareddy Telangana
Plant Ethanol Division: Plot Nos. B 8 to B 10, & B 18 to B21, MIDC, Kushnoor Kushnoor Raikode Medak Telangana
Plant Fabcity: Plot No. 36, Raviryal Village, Fab-City (SEZ) India Pvt. Ltd. Maheshwaram Mandal Raviryal Maheswaram Rangareddy Telangana
Corp Office C2, Pooja Plaza Vikrampuri Hyderabad 500009 Rangareddy Telangana 040-2788 3333 (30 Lines) 040-2788 3344, or 2784 0081
---