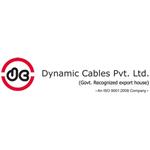 | | |
| --- | --- |
| Company Name: | Dynamic Cables Pvt Ltd |
| OldName: | |
| Group : | |
| Address: | Corp Office |
| | F-260, Road No. 13, |
| | V.K.I.Area, Jaipur |
| City: | Vishwakarma Industrial Area 302013 Jaipur Rajasthan |
| Tel: | 0141 226 2589 /4042005 |
| Fax: | 0141 2330182 |
| Mktg-Email : | [email protected] |
| HR-Email : | |
| Purchase-Email : | |
| Brands Owned : | |
---
About the Company :
Dynamic Cables Private Ltd ,formerly M/s Dynamic Engineers(DE),was promoted by the Mangal Family in the year 1986 as a partnership firm having its registered office located at Jaipur, Rajasthan. Later in 2007,the firm was converted into a private limited company under its
present name. The promoters of the company are Mr. Ashish Mangal and Mr. Rahul Mangal. The company is in the business of manufacturing LV and HV Power cables and overhead conductors which are used in electricity transmission and distribution in its three manufacturing plants located in Rajasthan. DCPL also exports its products to electricity distribution companies of countries like Kenya,
Liberia, Tanzania,Yemen,middle east and other African countries.
The annual installed capacity of company is 30,800 Kilometers of cables and conductors and 6000 MT of wires and strips and company's utilization was 89.12% in FY15-16. DCPL product range includes MV XLPE Cable, MV Aerial Bunched Cable, LV Aerial Bunched cables, Airdac Communication cable, Concentric Cable, Control Cable, Fire Survival Cable, LV PVC Cable,LV XLPE Cable, ACSR Conductor, AAA Conductor,Solar Cables etc.
The day to day operations are looked after by two brothers, Mr. Rahul Mangal(Director) and Mr. Ashish Mangal(Director).Mr. Rahul Mangal.
---
Personnel
Ashish Mangal
– Director
S. Kadam
– Vice President
Corp Office F-260, Road No. 13, V.K.I.Area, Jaipur Vishwakarma Industrial Area 302013 Jaipur Rajasthan 0141 226 2589 /4042005 0141 2330182
---