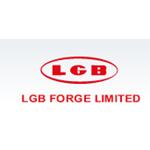 | | |
| --- | --- |
| Company Name: | LGB Forge Ltd |
| OldName: | |
| Group : | |
| Address: | Corp Office |
| | 6/16/13, Krishnarayapuram Road, |
| | Ganapathy |
| City: | Ganapathy 641006 Coimbatore Tamil Nadu |
| Tel: | 0422-2532325 |
| Fax: | 0422-2532333 |
| Mktg-Email : | [email protected] |
| HR-Email : | |
| Purchase-Email : | |
| Brands Owned : | |
---
About the Company :
LGB Group of Industries was founded in 1937 as a Transport Company which has grown into a diversified manufacturing company. LGB added various operations and grew to a Midcap company by 2000. In order to focus its activities in core  business LGB concentrated in transmission products such as Chains, Sprockets, Auto Tensioners, Fine Blanked components & Forged and Machining components and aligned its manufacturing facilities to meet the demand of its global customers.
During 2008, LGB demerged its forging operations into a separate Company called 'LGB FORGE LIMITED'.
LGB Forge Ltd. has three operations one in Mysore and one in Coimbatore for Hot, Warm and one for Cold forging activities. LGB Forge Ltd concentrates in manufacturing high volume Auto, Electrical & Transmission forged components and has a sizeable market share in this segment.
---
Personnel
B Vijayakumar
– Chairman
K Karthik
– Director
P V Ramakrishnan
– Director
Harsha Lakshmikanth
– Director
V Rajvirdhan
– Director
P Shanmugasundaram
– Director
Rajiv Parthasarathy – Director
K N V Ramani – Director
Plant Plot 80 & 81, K.R.S Road, Metagalli Post Mysore Metagalli 570016 Mysore Karnataka
Plant Pilliappampalayam Village, Kumarapalayam Post Pilliappampalayam 641653 Coimbatore Tamil NaduPlant Pillayar Koil Street, Near Power House, Kottaipalayam Post Kottaipalayam 641110 Coimbatore Tamil NaduCorp Office 6/16/13, Krishnarayapuram Road, Ganapathy Ganapathy 641006 Coimbatore Tamil Nadu 0422-2532325 0422-2532333
---
Products & Services Offered
Forgings
---